Clinical Trials for Secondary (Metastatic) Breast Cancer
Clinical trials are research studies that aim to find new or better treatments, or look at using existing treatments in different combinations. Only around 7.5% of people with cancer in the UK participate in drug trials, and trials for secondary breast cancer can sometimes struggle to recruit patients.
Clinical trials can look at a variety of topics, including: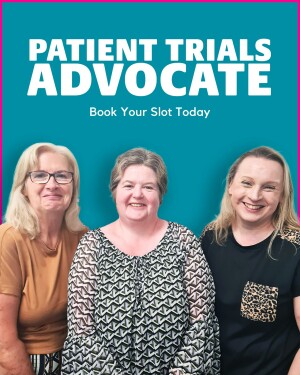 new drug treatments
new doses or

drug regimes

new ways of measuring response to

a specific

treatment
new types of palliative and supportive care to control symptoms
patient attitudes towards treatments
how treatment can

impact a patient's quality of life
Research funded by Make 2nds Count has shown that the majority of secondary breast cancer patients do not discuss clinical trails with medical staff. Read about the findings of this research project here.
We believe that it's vital that every patient has access to any treatment type, including clinical trials. It is part of Make 2nds Count's mission is to raise awareness and inform and facilitate access to patient trials. Our Patient Trials Advocate (PTA) service is here to provide unbiased information and support for those interested in exploring clinical trials options.

As a patient with secondary breast cancer you can book to speak to our dedicated specialist nurses to learn more about clinical trials. Make 2nds Count also curates a registry of all actively recruiting clinical trials within the UK relevant to secondary breast cancer. You can view this registry by clicking here.