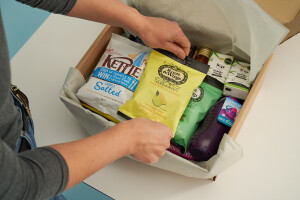 'Let Make 2nds Count Lift Your Spirits'
Are you living with secondary breast cancer in the UK? Is treatment getting you down?
The team here at Make 2nds Count are delighted to be funding Little Lifts Chemotherapy & new Radiotherapy boxes specially designed for secondary breast cancer patients.
Packed with love, a Little Lifts box is full of mood-boosting goodies and practical products to support women undergoing treatment for breast cancer. From a pain-easing heat pack to luxury body lotion, Little Lifts boxes include at least twenty five items carefully selected by women who have experienced chemotherapy or radiotherapy for breast cancer. You can find list of items here.
Please click HERE to request a Chemotherapy Box
Please click HERE to request a Radiotherapy Box
PLEASE NOTE THAT WE WILL REQUIRE PROOF OF SBC DIAGNOSIS.
PLEASE COMPLETE THE FORM ABOVE AND EMAIL PROOF OF DIAGNOSIS TO

littleliftboxes@make2ndscount.co.uk
WE CANNOT SUPPLY A BOX WITHOUT THE ABOVE INFORMATION.
*PLEASE ONLY REQUEST 1 BOX*
WE WILL SEND A CONFIRMATION EMAIL TO EVERYONE WHO REQUESTS A BOX AS CONFIRMATION OF RECEIPT.
If you have any problems, please email littleliftsboxes@make2ndscount.co.uk
WE ARE EXPERIENCING A SMALL DELAY WITH THE SHIPMENT OF THE BOXES AT PRESENT SO PLEASE BEAR WITH US WHILE WE WORK THROUGH THE REQUESTS. WE WILL KEEP YOU ALL UPDATED ON PROGRESS BY EMAIL.