Menopause and Secondary Breast Cancer
Treatments for secondary (metastatic) breast cancer can often cause you to go into an early menopause or have menopausal-like symptoms again if diagnosed years after your normal menopause, especially if your treatment includes hormone therapy. Lots of people experience this and there are many different ways to manage menopausal symptoms caused by breast cancer treatment.
On this page you will find:
Why does breast cancer treatment cause early menopause and menopausal symptoms?
Treatments such as chemotherapy and hormone therapy are the main reasons why you can experience an early menopause or symptoms of menopause
If you haven't been through your natural menopause, chemotherapy might cause your periods to stop. This is because the ovaries, which produce oestrogen, are affected by the treatment and stop working normally. As this is a sudden change, rather than a slow change, the symptoms can be very intense and upsetting.
If you have already gone through the menopause then treatment can cause some menopausal symptoms to return. This is because the female body still produces low level oestrogen from fat stores as an example and you may notice symptoms returning which had previously stopped.
Men with secondary oestrogen receptor (ER) positive breast cancer will also experience menopausal symptoms associated with the hormone therapy they receive.
Common symptoms
You may be experiencing: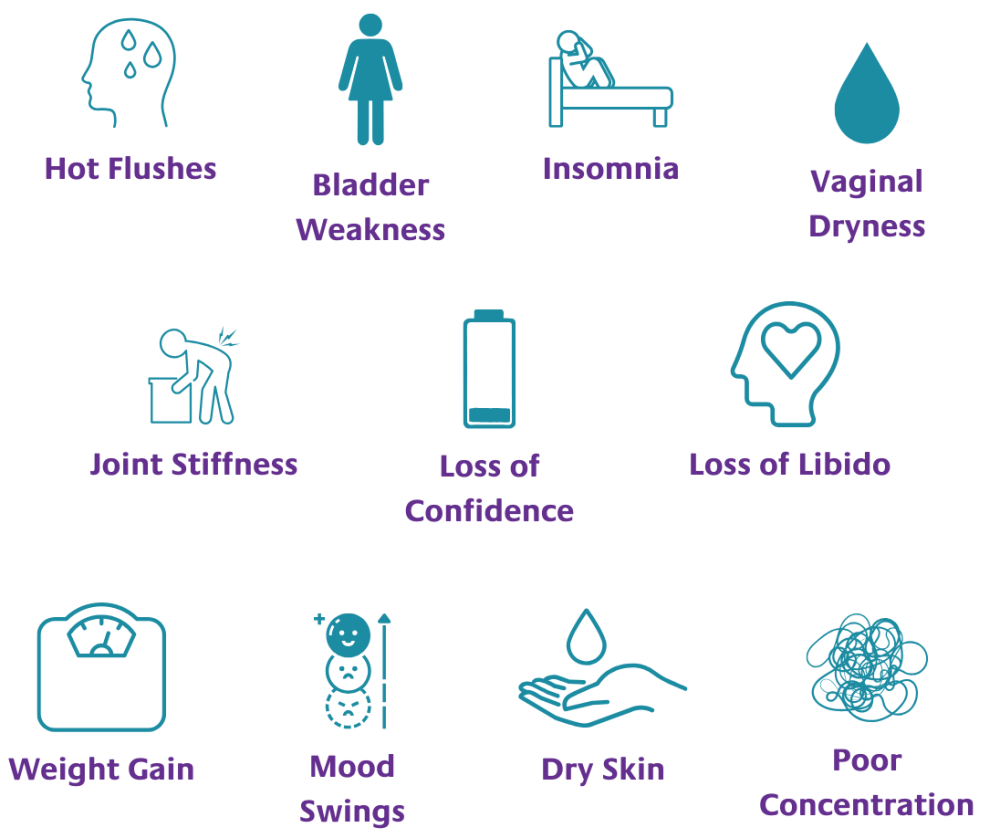 hot flushes and sweats which is the most common symptom that is complained about
difficulty sleeping (insomnia)
aches and pains, joint stiffness
needing to pee more often or suddenly (called frequency/ urgency)

This is often mistaken as a possible urine infection (UTI) but needs careful monitoring so that frequent antibiotics are not used/ prescribed

vaginal dryness or new vaginal discharge
loss of interest in sex or uncomfortable intercourse
dry skin
weight gain
mood swings
loss of confidence
poor concentration
Some people find the symptoms start very suddenly and can be very intense. If you are having a difficult time coping with these symptoms, speak to your clinical team straight away.
Management of menopausal symptoms
Menopausal symptoms can have a significant impact on your quality of life. Decisions about how to manage your symptoms depend on what treatment you are receiving for your secondary cancer, your personal circumstances and the risk vs benefits of any additional medication.
It may be that these symptoms are temporary and end when some treatments are complete, for example, 1st line chemotherapy for triple negative breast cancer (TNBC).
If you have ER positive breast cancer and on hormone therapy, then symptoms can last longer and take some time to settle or become easier to tolerate.
There are some medicines available to help with hot flushes:
Antidepressants
Your GP might prescribe an antidepressant drug such as venlafaxine, paroxetine or fluoxetine. These may reduce the frequency and severity of hot flushes by 50% in some women. It usually takes 1 to 4 weeks for antidepressants to help with hot flushes.
Unfortunately, there can be side effects with taking any of these antidepressants and these can include headaches, feeling sick, loss of appetite, a dry mouth and constipation. Some antidepressants can affect your sleep. Talk to your doctor if you are having problems sleeping as there are tablets that can be given for a short time to help restore your sleep pattern.
Antidepressants can interfere with the effectiveness of some hormone treatments so it's important to speak to your clinical team and seek advice before taking anything.
Gabapentin
This is a drug that is mainly used to control epilepsy and reduce nerve pain (neuropathy) associated with some chemotherapy drugs or disease related problems. It is also effective at reducing hot flushes. Possible side effects include feeling very tired, drowsy or dizzy.
Clonidine
This is a drug used to treat high blood pressure or migraines. It can help reduce hot flushes and sweats in some women. It can take up to 4 weeks to work. Side effects include constipation, a dry mouth and drowsiness.
Homoeopathy
Remedies such as black cohosh or red clover are not usually recommended as there is no clinical evidence that they work and some can be harmful. It is important to talk to your clinical team for advice before taking any other medication or herbal remedy.
Other methods that may help to manage your symptoms:


Common symptom

Things that can help

Vaginal dryness and painful intercourse

There are specialist creams, vaginal pessaries and water based lubricants that can be prescribed by your GP or bought over the counter in pharmacies. They are often used 2-3 times a week to reduce the dryness and discomfort.




Some of these products can damage condoms or diaphragms so it's important to speak to your clinical team for advice on what's suitable for you. You may need to discuss other forms of contraception if you are pre or peri menopausal and on treatment.

Loss of libido (interest in sex)

Although sex may be the last thing you are thinking about when dealing with a diagnosis of secondary breast cancer, it is an important part of a relationship and loss of libido adds to the distress of the situation.




Talk to your nurse specialist or clinical team about referring you for counselling, psychological support or specialist sex therapy if available, as these can be incredibly useful services to help you at this time.

Psychological effects such as mood changes, lack of confidence, loss of concentration and emotional distress and anxiousness

In the first instance speak to your clinical team and GP to keep them informed of how you are so that they can support you.




Referral to other specialist services may be needed.




At Make 2nds Count there is online and face-to-face peer support available which is easy to access and many people find talking to others in the same situation very helpful.
Impact on fertility
This can be a very painful time for people who have not yet had a baby or were planning to extend their family at a future date.
Women who are diagnosed with secondary breast cancer whilst pregnant are often advised to terminate in the early phase of pregnancy, especially if it is crucial to begin treatment.
Men with secondary breast cancer and whose partner is pregnant also experience the same feelings of sadness and sense of loss to deal with alongside their diagnosis.
Difficult decisions often have to be taken and the feelings of grief for the loss of a 'normal' future cannot be underestimated. This affects not only the person living with secondary breast cancer at the centre of this, but the ripple effect on partners and families can seem especially cruel.
It is important to talk about your feelings and access the support you need, so speak to your partner (if you have one), your family, friends and clinical team so this can be arranged for you.
What can I do at home to help with menopausal symptoms?
We spoke to the menopause experts to find out if there are any simple things you can do at home that can make a difference. Will small changes to lifestyle, diet and exercise really make you feel better when dealing with menopausal symptoms caused by breast cancer treatment? Watch these videos to find out more:
Diet
Karen Newby, menopause nutritionist specialist shares her 5 top tips for supporting your body through this transition with food.
Healthy habits
Dr Annice Mukherjee, who specialises in women's health and menopause, discusses giving yourself a prescription for small healthy habits every day that can make a big difference.
Exercise
Dr Liz O'Riordan, a breast surgeon who was diagnosed with breast cancer, shares her experiences and provides advice on exercise.
How we can help
Coping with menopausal symptoms and the emotional impact of early menopause is challenging, especially on top of treatment and coming to terms with your diagnosis. At Make 2nds Count, we are here for you.
We offer:
There are lots of local support services available for people living with secondary breast cancer but it's not easy to find them! Check out our 2nds Support Hub to see what's available near you.
With special thanks to Pauline McIlroy, retired Advanced Breast Clinical Nurse Specialist in Oncology from the Beatson West of Scotland Cancer Centre, for providing this tailored information for the secondary breast cancer community.
Date of last update: October 2023