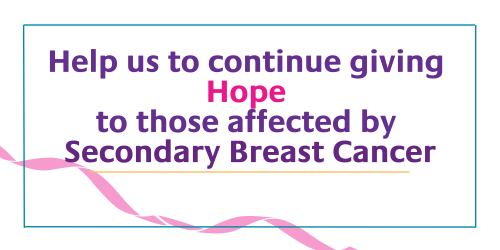 Leaving a legacy in your will.
Once you have looked after your loved ones, we would also like you to think of Make 2nds Count. Any legacy small or big will make a huge difference and help us to continue giving hope to those affected by Secondary Breast Cancer.
Make 2nds Count funds medical research and support programmes that contribute to advancing an increased quality of life for Secondary Breast Cancer patients helping all those affected by this incurable disease.
Why should you have a will?
Whilst nobody wants to think about the end of their life, most of us would like to make sure that our wishes are followed. A will makes sure that your property, money and possessions, go where you want them to. It also cuts down on the cost of winding up an estate as estates without wills can be expensive and complicated to administer. It's important for us all, young and old to have our affairs in order.
Including us in your will is so straightforward.
Leaving a gift in your will isn't as complicated as it sounds.
Provide your Solicitor or Will writer with Make 2nds Count details.
Full charity name: Make 2nds Count
Charity address: Gyleworks, 34 South Gyle Crescent, Edinburgh Eh12 9EB
Registered charity number: SCO48268
The organisation REMEMBER A CHARITY IN YOUR WILL have a lot of really useful information on leaving a gift to charity.