On Friday 27th October a Gala Ball took place at the C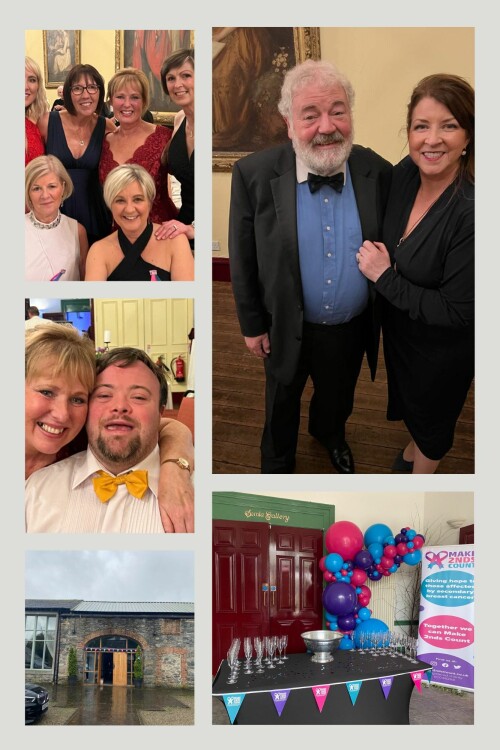 landeboye Estate in Northern Ireland in aid of Make 2nds Count. This ball was organised by Make 2nds Count Ambassador Cheryl Graham and a committee made up of businesses in Newtownards, Co. Down, NI. This committee was made up of; Diane Shaw from Ards Yoga & Wellness, Simon from Pavilion Home & Lifestyle, Sophia Polatol from Aesthetics & Wellbeing, Marilyn Patterson and Laura Killen.
As well as organising the Gala Ball, these businesses all came together throughout the month of October to raise awareness of secondary breast cancer and Make 2nds Count.
Guests at the Gala Ball were welcomed with a glass of fizz and a lovely meal. After the meal there were speeches from Cheryl and Laura and then the guests were treated to entertainment from the amazing Motown Sensations.
This event has raised an incredible £7,511.36 for Make 2nds Count. We caught up with Cheryl after the event and here is what she had to say:
It was a great night in a gorgeous location with beautiful food, laughter and dancing. The evening was made even more special as we had broadcaster and journalist, Ivan Martin to compare. Ivan's famous Bafta, Oscar and Irish film award winner son James also attended and presided over the ballot and later, the dance floor!!! The after dinner speeches were undertaken by Laura Killen, a fellow secondary breast cancer sufferer and myself as we felt it really important to describe the personal impact of the disease, but also encapsulate how Make 2nds Count have supported us in our journey. The outcome has been amazing with just over £7,500.00 raised, pledges of other fundraising activities and a commitment from local politicians to raise awareness of the disease and the lack of services in NI.
We would like to thank Cheryl, and all the wonderful people involved with this event for making it such a fantastic night and helping to raise these vital funds for Make 2nds Count.