Tea & A Chat Birmingham
We're delighted to be joining forces with passionate local patients, Diane Ellingham and Denise Bates, to establish a regular monthly, in person, TEA & A CHAT meet up group for secondary breast cancer patients in Birmingham.
Our support groups give patients the chance to share experiences and advice, and forge new friendships.
Our meetings will take place on the second Thursday of each month 11am - 1pm.
The Medicine Bakery, Mailbox Birmingham,
53 Wharfside Street, Birmingham, B1 1RE
(There are steps up to mailbox , then escalators, but there is a lift from car park)
We'd like to say a massive thank you to The Medicine Bakery for providing the room free of charge.
Launch meeting date: 14th December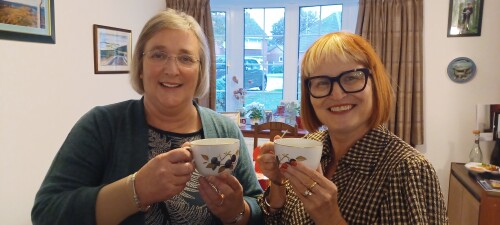 "Diane and I have been part of a small secondary support group since 2018, it is invaluable for friendship, advice and knowing someone else gets what you're going through. To be able to bring that to other ladies in the Midlands and help them build those connections would be invaluable, ( with the added bonus of cake! )"
Diane & Denise, Tea & A Chat Birmingham hosts