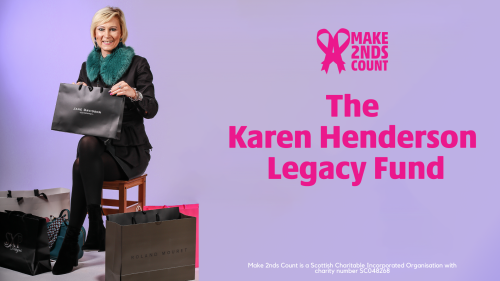 Donations can be made
The Karen Henderson Legacy Fund has raised an
incredible £66,100.95
to date.
A dedicated patient champion since the launch of Make 2nds Count in 2018, Karen firmly cemented her place in the Make 2nds Count family. As one of the patient models in our first photo shoot, the minute Karen walked in the door her positivity and zest for living her best life radiated throughout the studio. From that point onwards, Karen became one of our first patient champions and she made sure that she flew the flag for us anywhere and everywhere she went.
From campaigning at the Scottish Parliament, volunteering at roadshows, strutting her stuff on the runway (at any opportunity!) to hosting her 'Big Ball'. And, of course, who could ever forget her very own fundraising music video 'Sunshine on Dalkeith'.
Raising in excess of £35,000 for us over the years, there was no stopping this pocket rocket!
Make 2nds Count gave Karen hope and a support network but she gave us even more blessings in allowing those involved in Make 2nds Count the opportunity to call Karen a dear friend.
''She was beautiful for the way she thought. She was beautiful for the sparkle in her eyes when she talked about something she loved. She was beautiful for her ability to make other people smile even if she was sad"
The Karen Henderson Legacy Fund - does the Edinburgh Kiltwalk in 2023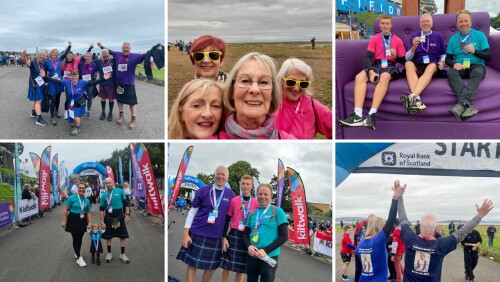 We were delighted to take a team of 19 to the Edinburgh Kiltwalk in 2023 to raise funds to help bring hope to those affected by Secondary Breast Cancer.
The Kiltwalk has become one of the biggest and most loved fundraising events in Scotland and we were excited to be part of it.
We all had a fantastic day and our incredible team managed to raise an amazing £7,193.00 for The Karen Henderson Legacy Fund.
We cannot thank everyone enough for your continued support.
In 2023 Karen's Legacy Fund is delighted to be lending it's support to the wellbeing of Secondary Breast Cancer patients in the following ways:
2nds Together Retreats
These retreats held at Blairmore Farm, Crieff, Rainhill Hall, Liverpool and Castle Bromwich, Birmingham provide a welcome, much needed break from life on constant treatment for SBC patients. The KHLF provides each attendee with a lovely gift bag "with love from Karen" full of quality and useful cosmetic products
Birdsong Physio & Yoga
Make 2nds Count are partnering with Birdsong to offer up physio led yoga sessions for Secondary breast cancer patients. Both these activities have been proven to help patients with breathing, flexibility and pain management. Karen was a great advocate for and strongly believed in the benefit of keeping both fit and active whilst going through treatment.
Having successfully completed the first round of sessions, keep an eye on this page for future opportunities.

Edinburgh Tea & A Chat
This Tea & A Chat monthly meet held in the home city of M2C, offers a safe and friendly space to meet with other SBC patients, to get peer to peer support and have that all important chat with others in a similar position, all in a beautiful relaxed environment. The KHLF fully funds these sessions.